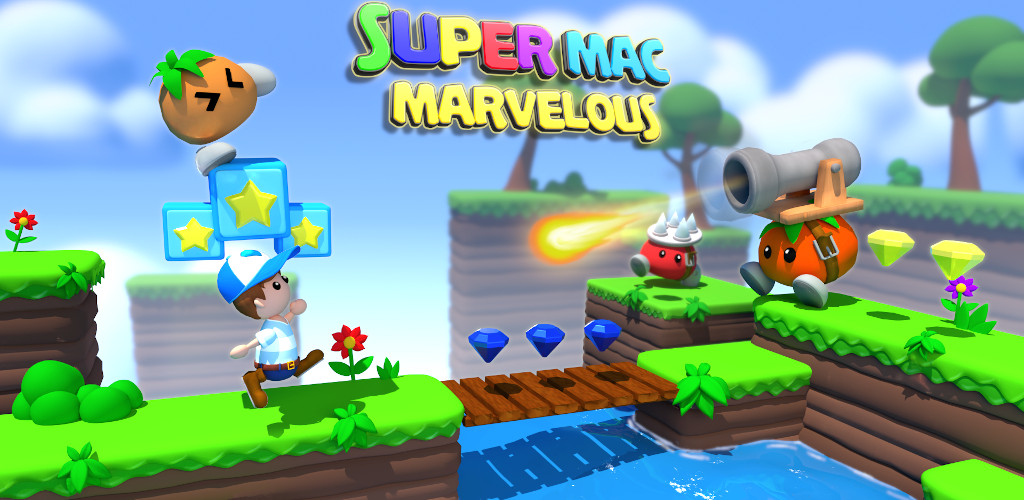 super mac mario header
Super Mac: Jungle Adventure World takes you back in time to enjoy an old-school super mario style platform game like
the games from your childhood! Super Mac's legendary adventure world awaits.
The Princess was kidnapped by the Tombi King in the jungle Kingdom and your mission is to rescue her.
Run and jump your way through many well-designed levels in 4 different mysterious worlds.
Overcome obstacles and defeat the super evil Tombi monsters with fireballs and your smash attack
to save the beautiful Princess. Collect gems to improve your abilities to become stronger and unlock cool costumes.

Super Mac is a fun and exciting platform game inspired by the classic Super Mario games for all ages and can also be played offline!
Are you ready to join Mac in his adventure to explore the world and save the princess?

How to Play:
- Use the buttons to run, jump and use your abilities
- Drink the red and blue mushroom potions to refill your health and your magic energy
- Use collected gems to become stronger and unlock awesome costumes or to buy powerful PowerUps in the store
- Collect all 3 Stars in every level to earn higher rewards

Features:
- Over 72 levels in 4 different worlds (hills, winter, dungeon and jungle)
- Bonus stages with almost unlimited amounts of randomly generated levels
- Beautiful pre-rendered high-resolution graphics
- Lots of Hats and Costumes to unlock
- Super Mario inspired gameplay
- Jump on enemies or use fireball and smash attack to defeat them
- Upgrade your skills, life and magic energy
- Hidden PowerUps like Double-Damage, Double-Gems and Shield to help you in this world
- Easy and simple controls
- A fun classic retro game that both kids and adults can enjoy
- This game can be played offline!
- Tablet and phone support

If you like games like Super Mario World you should not miss this classic game.
Download Super Mac now and help him save the princess!

Have fun!